From My Editing Desk: The Caregiver's Beatitudes by Robert Martin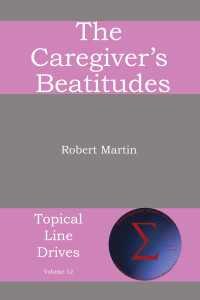 The past two weeks have been an "industrial strength" blessing and is one of the reasons why I love this new career of publishing that God brought me into ten years ago. My previous career was as a Registered Nurse for over 30 years. The best season of that career was the 12 years in hospice care. It truly brought my love for nursing into a ministry that forever changed my life. Now it's a new season and it's wonderful to work with authors who write from their experience and study with the LORD.
Cancer. A life-threatening illness that brings with it many battles, not the least of which is physical. Robert Martin writes in his book, The Caregiver's Beatitudes, from his experience as a caregiver to his wife during their battle against breast cancer. The study is both spiritually encouraging as well as practical in its meditations on each line of the Matthew 5:3-10 portion of Jesus' sermon.
Each chapter resonated with me as a former nurse who had worked with hundreds of families who struggled with their emotions while still negotiating through the tasks of caring for their loved ones. While being both willing to do whatever was needed, caregivers often feel they are in "over their heads" with unfamiliar tasks and a needy loved one.
I also identified as a former caregiver to a loved one with cancer. The fatigue of the daily battle against, not just a disease, but the bigger enemy – fear. Robert's meditations are a balm to the tired and bruised spirit, directing thoughts to remember Who it is that is with both the caregiver and their loved one.
I hope everyone who reads this who knows someone who is a caregiver or has been a caregiver, will invest in their spiritual health and order this book. It is only 44 pages, which makes it very affordable, but it is also a huge blessing!