Just as iron sharpens iron,
friends sharpen the minds of each other. – Proverbs 27:17 (CEV)
Let us continue to hold firmly to the hope that we confess without wavering, for the one who made the promise is faithful. And let us continue to consider how to motivate one another to love and good deeds, not neglecting to meet together, as is the habit of some, but encouraging one another even more as you see the day of the Lord coming nearer. – Hebrews 10:23-25 (ISV)
Are you in a Bible study? Do you meet regularly with at least one other person to study and consider God's word? Personal, private study is important. But unless you have one other person with whom to study and consider Scripture, I submit that your reasoning and consideration is one-sided.
I am blessed to study with a young woman, Erin, who looks at and considers Scripture differently than I do. I want any given Scripture to speak into my life. I want it to apply to the road that I am currently traveling. Erin has a very flexible mind and is quite content to take a Scripture and turn it back and around, considering how it applied to the people of 3,000 years ago and today and then what it might mean to her grandchildren. She stretches me – and I suspect I stretch her also!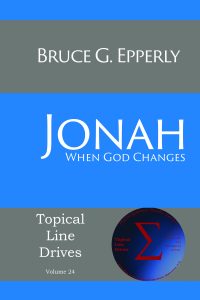 And then there is our choice of study material. Right now we are using Dr. Bruce Epperly's new study of Jonah: When God Changes. We've discussed whether Jonah was a real prophet of his time. We've discussed the possibilities of being swallowed by a whale. And made our list of who we did not want to be sent to by God to encourage repentance or die! Given the current political conditions, this study has given us a lot to think about and we look forward to our study every week! We give it 5 stars out of 5!