The Truth, The Whole Truth!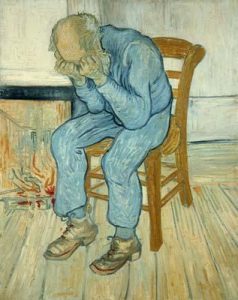 I am the one who has seen the afflictions
that come from the rod of the Lord's anger.
He has led me into darkness,
shutting out all light.
He has turned his hand against me
again and again, all day long.
He has made my skin and flesh grow old.
He has broken my bones.
He has besieged and surrounded me
with anguish and distress.
He has buried me in a dark place,
like those long dead…
The thought of my suffering and homelessness
is bitter beyond words.
I will never forget this awful time,
as I grieve over my loss.                                  Lamentations 3:1-6 (NLT)
Sometimes life is just hard. Some days are more than difficult with loved ones ill, children trying to navigate through tough questions and circumstances, and job security and health insurance a thing of the past.
If we are men and women of faith, we turn to our Bibles looking for God's promises. We come to study groups and join others in worship, all searching for answers, encouragement and guidance from our Savior. We want to know that His promises are true. We want to know we are not alone and that God understands. We need more than the promises.
In the first 20 verses of Lamentations Chapter 3, the writer expresses his frustration and bewilderment, his anger and hurt that God has allowed these terrible things to happen. I can surely relate to that! "Where are You, God?" "Do you hear me crying out to You?" I need to know that my Savior continues to walk with me every day.
Yet I still dare to hope when I remember this:
The faithful love of the Lord never ends!
His mercies never cease.
Great is his faithfulness;
his mercies begin afresh each morning.
I say to myself, "The Lord is my inheritance;
therefore, I will hope in him!"
The Lord is good to those who depend on him,
to those who search for him. Lamentations 3:22-25 (NLT)
By reading at least the whole chapter, I get a full message from God, His important message: He is with me all my days. He affirms that there will be difficult days. When I cry out to Him and wonder where He is in troubled times, He assures me He is with me and won't leave me.
Take some extra time with the LORD today. Instead of just reading:
The LORD is my shepherd; I have all that I need. – Psalm 23:1 (NLT)
Read the whole psalm and remember all that the LORD is doing in your life every day!