Monday Bible Study: Week 2, July 14th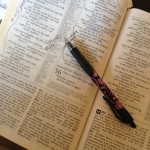 Our first night of Bible study gave us some points that need clarification and technical glitches which require some refining. But we will continue forward and Henry and I are excited to see who joins us every week and what God will teach us all!
Next Monday evening our opening questions will be:
Can we, and should we, distinguish the weeds and wheat in our lives and experience?
The Scripture passages we should all read before coming to the study are:
Isaiah 44:6-8
Psalm 139:1-24
Romans 8:12-25
Matthew 13:24-43
See you next Monday @ 7 p.m. CDT! If you do not have a Google account, register for one using just the basics, your name/email address and password. Send your email address to me, jo@jodyneufeld.com and Monday evening we will send you an invitation link to join us. Once we have you in the first visit, every week we will send you the invite.
BLESSINGS!