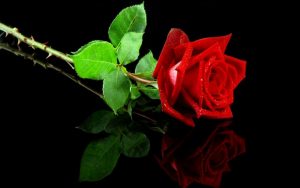 Therefore, since we have been made right in God's sight by faith, we have peace with God because of what Jesus Christ our Lord has done for us. Because of our faith, Christ has brought us into this place of undeserved privilege where we now stand, and we confidently and joyfully look forward to sharing God's glory.
We can rejoice, too, when we run into problems and trials, for we know that they help us develop endurance. And endurance develops strength of character, and character strengthens our confident hope of salvation. And this hope will not lead to disappointment. For we know how dearly God loves us, because he has given us the Holy Spirit to fill our hearts with his love. – Romans 5:1-5 (NLT)
It's wonderful to come together in a fellowship and hear how much God loves us and how He is involved and desires to give us an abundant life. I believe that the words in John's book of Revelation should be carried out every time we come together (Revelation 12:11) – testimonies of what God is doing in our lives are a powerful force that drives back the temptations and the harassements of the evil one who is our daily accuser!
But for those of us who teach, or preach, we must present the whole Gospel. I once heard a preacher describe his messages as "Twinkie messages" and "Brussel Sprout messages." We know that if Twinkies are the main ingredient of our daily diet, we will not be healthy. Green vegetables may not be our favorite food group, but they are vital to a healthy, strong body. And so we must also hear the often difficult passages of Scripture that remind us that there are difficulties, trials, that come to God's children.
The Truth – The Twinkies
John 14 – 15: Jesus tells me not to allow my heart to focus on the troubles of this world but to believe in Him and in the Father. He and the Father are One and, even more, there is their Spirit which will remind me of everything that Jesus taught. We are forever connected with Jesus, He is the vine and I am a branch that receives the nourishment directly from Him.
1 Corinthians 12 and 14: God has given us gifts and power through His Holy Spirit that as we come together as Believers, we may hear Him and know His way. We are His Army, with weapons that combat the forces of evil in this world.
Ephesians 3: We are loved by God Himself. We do not fully know or understand the enormity of His love and what it means. It is a wonderful, exciting, uplifting thing to see, feel and know the revelation of Abba Father's love. When we live our daily lives in a world which tries to beat us down with fear and confusion and doubt, it is a welcome oasis to come and sit at the Master's feet and hear Him speak of His love for us.
The Truth – The Full Meal
John 16 – 17: Jesus says He is telling us what was written in John 14 and 15 because He does not want us to wander away from His truth. He wants me to remember that He warned me that there would be trouble, even trouble from people who believe they are acting on God's orders! But His Spirit, the Couselor, will speak to me with His truth and the grief that I may feel will turn to joy as I realize that Jesus has already overcome this world!
1 Corinthians 13: No matter the power of God inside of me, no matter how powerful the words or manifestations of His power in and through me, that will all mean nothing if I do not use that power, pour out that power, with His love. If what I do in God's Kingdom, does not speak first and last of His love, then I am only a loud, self-serving cymbal! There is nothing, nothing that God hates more than my personal pride!
Ephesians 4: As I learn of God's love, I must live a life worthy of His call to me; a life that is humble, gentle, patient and loving. It is to be a life that promotes unity among Believers, encouraging others in their call. I am to imitate Jesus, living a life that not only receives God's love but is a giver of His love.
My sisters and brothers, our lives here and now are not going to be easy. The abundant life promised by Jesus is an eternal life that is not momentary like this world. It is forever as our life with our Abba Father is forever!
Celebrate God all day, every day. I mean, revel in him! Make it as clear as you can to all you meet that you're on their side, working with them and not against them. Help them see that the Master is about to arrive. He could show up any minute!
Don't fret or worry. Instead of worrying, pray. Let petitions and praises shape your worries into prayers, letting God know your concerns. Before you know it, a sense of God's wholeness [His peace beyond understanding], everything coming together for good, will come and settle you down. It's wonderful what happens when Christ displaces worry at the center of your life.
Summing it all up, friends, I'd say you'll do best by filling your minds and meditating on things true, noble, reputable, authentic, compelling, gracious—the best, not the worst; the beautiful, not the ugly; things to praise, not things to curse. Put into practice what you learned from me, what you heard and saw and realized. Do that, and God, who makes everything work together, will work you into his most excellent harmonies. – Philippians 4:4-9 (The Message, my addition)