A Well-Loved, Witnessed Life
[Jesus said,]"My command is this: Love each other as I have loved you.13 Greater love has no one than this: to lay down one's life for one's friends.14 You are my friends if you do what I command.15 I no longer call you servants, because a servant does not know his master's business. Instead, I have called you friends, for everything that I learned from my Father I have made known to you.16 You did not choose me, but I chose you and appointed you so that you might go and bear fruit—fruit that will last—and so that whatever you ask in my name the Father will give you. 17 This is my command: Love each other."                        John 15:12-17 (NIV)
This is a very familiar passage but, frankly, I don't think most of us live this command from Jesus. Maybe I am speaking only for myself. Jesus said this is a command, not a suggestion that we can choose to follow.
Last night, I sat in a room filled with people from various churches, varying ethnicities and political views. We were all there to bear witness and celebrate the life of a man who does live this command. You will never find his name in any Who's Who book or online news site. If you wrote about him, the facts will not be found in Wikipedia. You would find his life, who he was and is, what he has done, written in the lives of other people. People who stood up last night and shared what he meant to them.
Some of the people were contemporaries. They told stories of how they met in prison when they were both serving time. This man decided to make a change in his life and began a group called (I think) The Insiders Reaching Out.
Some of the people were children, ranging in age from 5-6 to teenagers. "I love him even when he gets on to me and tells me to quit messing around and live right!" There were chuckles from the adults listening but the love and earnestness on the faces of the children also brought tears to our eyes.
This man was no super-human who found it easy to love or simple to feed and educate people who are the cast-offs of our society. In the short, simple words that he spoke on this night, he once again pointed us to the Father God who loved him long before he loved the Father. He told us, without reservation, that it was the LORD who gave him the unconditional love and forgiveness for others and the wisdom to grow an outreach ministry from one building that was threatened with foreclosure to the multi-buildings that now provides meals, classes and tutoring for children and adults, and direction for those seeking jobs.
I have been thanking our God for allowing me to meet this man.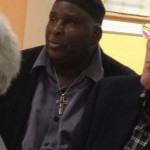 I hope you have also now been blessed to learn that God is sufficient for any task we are given. That His love and mercy is enough for us to be able to reach out to anyone. And if I am not reaching out to others – why not? I am a chosen child of God. I am a friend of God. Because of Him, I can live a fruit-filled life – just like my friend, Pastor Willie Williams.