A Monday Night Bible Study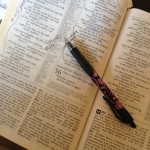 Beginning Monday, July 7th, Henry and I will be hosting a "live" Google Hangout Bible Study @ 7 p.m. CDT. Every week we will be studying the Lectionary texts for the following Sabbath. Here are the texts for our first week:
Isaiah 55:10-13
Psalm 119:105-112
Romans 8:1-11
Matthew 13:1-23
Opening Question: How does God speak to you?
If you want to join us on Monday, July 7th here are you two options:
1) Send your email address to jo@jodyneufeld.com before 6:30 p.m. CDT on Monday, July 7th. We will send you a "link invitation." When you arrive at the Hangout site, you will be asked to create a Google account if you do not already have one. Fill in your name and create a password. You do not have to complete a whole profile!
2) If you would rather not give us your email address or you already have a Google account, go to Henry's Google+ page that evening, click on Henry's announcement about the Bible Study and sign in with your account.
We are very excited about this Bible Study because the lectionary texts will take us through a variety of subjects and if you miss a week, there is no "catching up!"
See you next Monday!