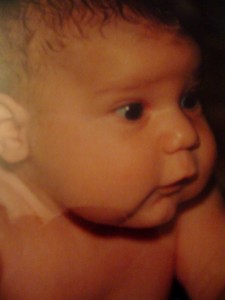 How often have you heard God say that to you?
How often does a father tell his child "I love you"? Once in a lifetime? Every year? Every month? Every week? Every day?
[Jesus said,] "Is there anyone among you who, if your child asks for bread, will give a stone? Or if the child asks for a fish, will give a snake? If you then, who are evil, know how to give good gifts to your children, how much more will your Father in heaven give good things to those who ask him!"                    – Matthew 7:9-11 (NRSV)
Jesus also said that the second most important commandment was for me to "love your neighbor as yourself." (Matthew 22:39) Jesus is warning me that if I do not love myself, I cannot love my neighbor. So what do I hear in my head every day? Do I hear words of love?
I've been talking to my Abba, my Father, about this. I decided on the name Abba because Father seemed too formal and Daddy too casual. When I picture Abba in my mind, He is grand. He the King! But then I look into His eyes. They are kind. They are familiar. They know me. They have seen me at my most vulnerable; when I have been in the most pain and so very weak.
Every day, or night depending, I have spent some quiet time with Abba and I start our time with, "I love You, Abba." Just a quiet, from the heart statement. And then I don't rush on to the next thing but let that statement mean something. I consider what it means. I meditate on how I allowed my love to show itself in my heart and my life. And then … I wait for it. I wait to hear "I love you, Jody."
I look up into the eyes of my Father. I look at His eyes and consider what they are saying to me and about me. Do I hear correction? Sometimes. But it is correction, not humiliating condemnation. My Abba steers me in His right direction. He teaches me about cultivating more fruit: love, joy, peace, patience, kindness, goodness, faithfulness, gentleness and self-control. (Galatians 5:22-23) Abba shows me how to keep my mind on what is good:
Fix your thoughts on what is true, and honorable, and right, and pure, and lovely, and admirable. Think about things that are excellent and worthy of praise. – Philippians 4:8 (NLT)
Our lives are so filled with "stuff." The demands on our time are sometimes worthy (serving others, family, job etc) but can often be good, but not necessarily God (entertainment, job, serving others, etc). For me, it has taken me so long to learn that when someone asks me to do something or an opportunity opens for me to participate, my response should always be, "I'll pray about it and let you know." And then do that. Listen to what God has to say. Would God actually tell me not to cancel our family vacation in order to help at Vacation Bible School? Would God ask me to reschedule our family vacation in order to help with VBS? Yes, to both questions. God has a plan. His plan to bless and show His love for me may include allowing me to help children and receive their unconditional love. He may also know that my family needs the time He has planned for us. What have He and I been talking about lately? What is it that I need to learn about? Let me slow down. Let me listen to hear Abba tell me how much He loves me.
"I love you, Jody." I want to hear this every day. I want to take time for what is important in my life.