Twenty years ago, I had a beautiful opal that I wanted reset from a necklace into a mother's ring. My brother and his family lived in Montana at that time and had friends, the Gneitings, who were gifted in just that art who could help me.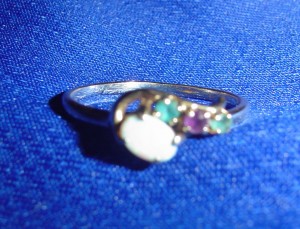 I wish my photography matched the beauty of this ring that still makes me smile every time I look down at my finger. I had the idea that I wanted my birthstone, the opal, with the birthstones of my children to be added. It was the design of the Gneitings, owners of Montana Gem, that brought that idea into this wonderful piece of art. Through the years I have received so many "WOW" comments. From complete strangers who grab my hand as I am signing a paper, to comments during a break when I am teaching at a conference, this unique design has caught the eye of many people.
The Gneitings were also the ones who said I should separate the
two emeralds of my twins (Janet and John) and place their younger brother's (James) amyethyst stone between them. That is very special to me now. James died at the age of 17 from cancer. The ring design now reflects that we have encircled James and remain a family.
Thank you, Randy and Katie!