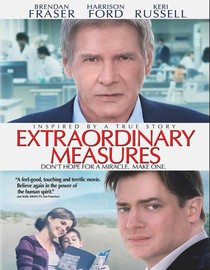 I will have to put Extraordinary Measures in my 2010 Top 10 Movies. On the recommendation of my son, my husband and I sat down to watch this movie via Netflix. (By the way, we have had Netflix for over five years and we love it!)
Inspired by the true story of John Crowley and his quest to find a medication to treat his two children stricken with the genetic disorder, Pompe's Disease, this movie brings the desperation of the parents in conflict with corporate bureaucracy.
Although I have had a child with a life-threatening illness (cancer), the questions and options presented in this movie seemed 'different' to me. Pediatric cancer has made great strides in recognized, proven treatments thanks in great part to the research efforts of St. Jude Children's Research Hospital. As a student nurse in the late 1970's, I spent three weeks of my pediatric training in that then relatively small hospital. I had three patients that I followed during those weeks, two I sent home to die. Now the success rate of leukemia is over 90%. I can't help but weep as I read this and rejoice in how these numbers reveal themselves in beautiful children!
Many disorders, like Pompe's Disease, do not have an advocate like St. Jude Research Hospital to coordinate all that is needed to produce the data, not the least of which is money, that in turn produce successful research that will save lives. Even in my own limited experience with raising money for our local children's hospital, the public often identifies 'cancer' as the disease all the children battle. While statistically cancer is the front runner, cystic fibrosis, diabetes, premature infant births, and the myriad of genetic disorders have their own deadly percentages that strike our children with uncaring frequency.
Many donate to, run for, and participate in various ways to support research and the facilities that care for the children who surely have great needs. I hope that everyone who is reading this are part of that support. It is a parent's nightmare to have their child stricken with an illness and have the best doctors say, "There is nothing we can do." Prayer with action was Jesus' example. May we all follow it!